Jacksonville, Florida, a city pulsating with energy and life, demands transportation services that match its vibrancy. In the midst of this dynamic atmosphere, Coastal Motorcoach emerges as the epitome of luxury transportation, offering a range of services that cater to various needs. Whether you are a college athletics team, a group of high school students on a field trip, or a corporate event planner, Coastal Motorcoach provides an unparalleled experience that combines comfort, convenience, and style.
Transportation for College Athletics:
College athletes invest immense dedication and effort into their games, and Coastal Motorcoach understands the significance of a stress-free journey. Instead of wrestling with traffic, parking, and navigation, athletes and coaches can now focus on their strategies and motivation. With Coastal Motorcoach, the journey becomes a part of the winning experience.
High School Athletics Transportation:
High school athletics demand focus and team cohesion. Coastal Motorcoach ensures that your time in transit becomes an opportunity for motivation and bonding rather than a struggle with logistics. Professional drivers, vetted and experienced, provide a smooth ride in vehicles equipped with ample storage and in-cabin restroom facilities. The focus remains on the game while the travel becomes a luxurious experience.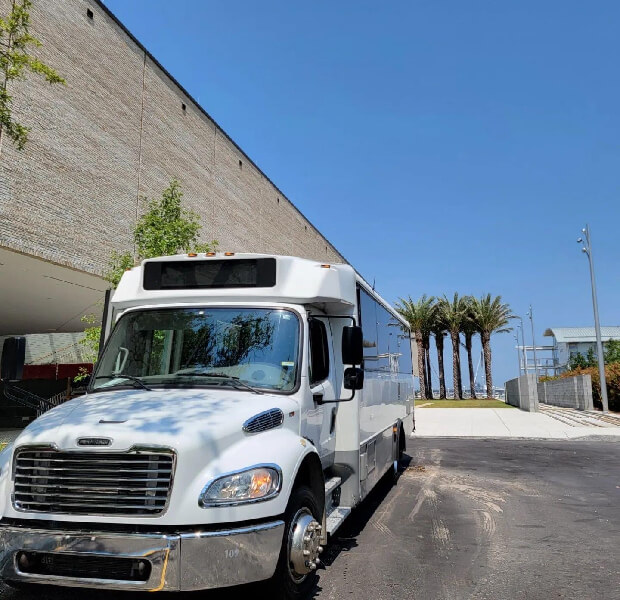 Jacksonville Motor Coach Charters:
Planning a corporate event or a large group gathering is daunting. Coastal Motorcoach lifts the burden by offering a hassle-free travel experience. Their fleet is designed to leave a lasting impression, boasting features like hardwood floors, abundant cabin storage, and in-cabin restroom facilities. Coastal Motorcoach turns the journey into a luxurious prelude to your event, ensuring that your guests arrive in style and comfort.
Student Tours & Field Trips Around Jacksonville:
Coastal Motorcoach takes the stress out of organizing student tours and field trips. With vetted and experienced professionals at the wheel, you can relax, knowing that your students are in safe hands. The vehicles are equipped with all necessary conveniences and comforts, making the trip enjoyable and memorable for everyone involved.
Luxury Motor Coach Services:
At Coastal Motorcoach, luxury is not just a word; it's an experience. Their fleet of motor coaches in Jacksonville, FL, is a testament to this commitment. Comfortable seating, efficient air conditioning, and entertainment systems are standard features, ensuring that every journey is a delightful experience.

Corporate Events Transportation in or Around Jacksonville, FL:
Coastal Motorcoach understands the importance of making a lasting impression at corporate events. The journey sets the tone, and Coastal Motorcoach ensures that it's a luxurious one. With amenities like hardwood flooring, spacious aisles, and in-cabin bathroom facilities, every ride becomes a stress-free and comfortable experience, allowing attendees to focus on the event itself.
In conclusion, Coastal Motorcoach stands as a beacon of luxury transportation in Jacksonville, FL. Their unwavering dedication to safety, reliability, and unmatched comfort sets them apart. Whether it's for athletes, students, or corporate professionals, Coastal Motorcoach provides more than transportation; it offers an experience that elevates every journey. For those in Jacksonville, Coastal Motorcoach is not just a transportation service; it's a partner in making every trip memorable and enjoyable.
Conclusion: Coastal Motorcoach
In the bustling city of Jacksonville, Coastal Motorcoach shines brightly as a symbol of luxury and sophistication in the transportation industry. Their commitment to excellence, paired with their top-notch services, ensures that every journey becomes an unforgettable experience. So, the next time you need to travel in style, comfort, and convenience, remember Coastal Motorcoach - where your journey becomes an adventure in luxury. Contact them today and let your travels be defined by elegance and relaxation.