Need a top-notch limousine service for your Naples shore excursion? Consider Naples Limo Service! They offer a dependable and well-equipped fleet of vans and sedans for your Naples excursion needs. Experience seamless and unparalleled travel through their collaboration with professional transfer operators and tour operators, as well as hotels. Book a memorable and organized Naples shore excursion with Naples Limo Service now!
Main Tourist Attractions
Naples: Many cruise passengers who dock in Naples head out to see famous destinations such as Pompeii and the Amalfi Coast. But if you're interested in exploring the city itself, there's plenty to keep you occupied. One of the top attractions is the National Archaeological Museum, which showcases a wealth of artifacts from Pompeii and Herculaneum. The city also boasts several impressive castles, each with its own fascinating history. Castel Nuovo, built in the 13th century, is located close to the harbor, while Castel dell Ovo, dating back to the 9th century, can be found on the small island of Megaride just a stone's throw away. Another must-visit site on your Naples shore excursions is the city's cathedral, the Duomo di San Gennaro.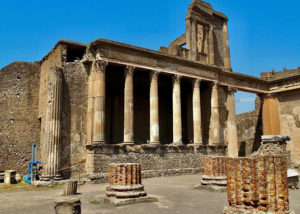 Explore the Remnants of Pompeii and Vesuvius:
The ancient city of Pompeii, located 30 kilometers southeast of Naples harbor, is a must-visit for cruise ship passengers. This Roman city was buried under volcanic ash from the eruption of Mount Vesuvius in 79 AD and remained undiscovered until 1748. The site is well preserved, with many buildings and their contents still intact, offering insight into the daily life of ancient Rome. The nearby Mount Vesuvius also offers a fascinating look at the power of nature and serves as a reminder of the city's tragic past.
Amalfi Coast: The Amalfi Coast is a picturesque region with a dramatic coastline and charming former fishing villages. The historic town of Sorrento, with roots dating back to ancient Rome, is a popular stop for shore excursions. Visitors can take in breathtaking views of the Bay of Naples and the island of Capri from high cliff tops. Many cruise lines include visits to the beautiful towns along the Amalfi Coast in their shore excursions.
Capri: A visit to the exclusive island of Capri, situated in the Bay of Naples, is a must for those who want a longer sea journey. For decades, Capri has been a popular holiday destination and a hotspot for the rich and famous. However, when multiple cruise ships dock at Naples at the same time, the Marina Grande harbor on the island may become crowded, but it is still an exhilarating experience.
Night in Naples: If you happen to be staying in Naples overnight then there are numerous classical theatres where it would be worth checking out if there are any performances scheduled during your time in port. The Teatro di San Carlo is one of two gorgeous venues worth checking out (Via San Carlo 98). Spending your evening at one of the restaurants on the waterfront overlooking the Castel dell'Ovo is a good choice.
Conclusion
If you're looking for a reliable transportation service in Naples, look no further than Naples Limo Service. With their experienced and professional drivers, you can trust them to provide you with a smooth and stress-free ride to your desired location, whether it is the airport, train station or cruise terminal. Booking your Naples shore excursions is made effortless with their user-friendly online reservation system. Let them take care of the rest while you sit back and enjoy the ride.