NAPLES is one of the most exciting places in Italy! A well-planned Naples shore excursion lets you discover Europe's finest archaeological sites Pompeii and Herculaneum, a live volcano at Mt. Vesuvius, and the most spectacular coastlines in the world. In the future, your Naples shore excursions will take you to explore the Amalfi Coast, which is home to Positano, Amalfi, and Ravello. If that's not enough, the limo service can add in some Italian shopping, delicious pizza, freshly cooked pasta, and drinking world-famous Italian wines. The expert local and English-speaking chauffeurs let you remain to relax and enjoy the passion and charm of the local people. So, don't miss out on the opportunity! Maximize your time while on an exciting Naples shore excursion.
Do you book your cruise and check the stops to see the Port of Naples or go for a Naples shore excursion? Although many passengers have overlooked it, this is one of the most exciting ports and gives you lots of activities and is rich in adventures for you to enjoy. In addition, leading limousine service providers offer private, tailor-made Naples shore excursions conducted by professional English-speaking drivers in fully air-conditioned vehicles.
The limousine service providers are very professional, and you will find them waiting for you or your group at the cruise port. They hold the sign with your name, ready to take you away on your chosen itinerary. They are very much punctual with the cruise ships docking. They also consider a punctual return to your cruise ship as one of their top priorities.
The Naples shore area is quite vast. Therefore, it is usually wise to cover two to three places of interest during a full day. So, make your plan accordingly. You can stay in the vibrant city of Naples to discover its many ancient churches, monuments, museums, and art galleries. It is a bustling city with modern-day life, and the best way to explore the city is by hiring a Naples shore excursion with a reliable limousine service provider.
The best way to start a full-day tour in Naples is taking on the majestic Galleria Umberto, the world-famous San Carlo Opera House, the historical churches of Gesu Nuovo, Santa Chiara and the marble statue of the Veiled Christ, Castel dell Ovo, the archaeological museum, the underground tunnels - Napoli Sotterranea, and enjoy a drive to a panoramic point to witness the breath-taking view of the Bay of Naples. On your Naples shore excursions, the next thing to discover is to visit the UNESCO archaeological sites of Pompeii and Herculaneum – the two thriving Roman cities before 79 AD. and spend some good time in such areas.
Leading limousine service providers offer qualified English-speaking guides and chauffeurs that have the passion and knowledge to explain & bring things back to life for you. Visit the live volcano, the main culprit of the destruction of Roman life, as it is within your reach. The vineyards around the crater allow you to enjoy a relaxing stroll around & learn the wine-producing techniques. You can enjoy a delicious freshly cooked lunch accompanied by a wine tasting there.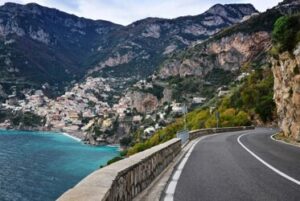 The geographic layout of Naples makes it possible for the limousine service to offer a fun end to your Naples shore excursion. If you love beautiful scenery, then the Naples shore excursions will take you to Ravello, Amalfi, and Positano, the number one place to visit in Italy. A full-day Naples shore excursion is a unique journey like no other. Every part of the coastal road offers a new and spectacular view. You have the opportunity to explore the alleys which are crammed with cafes and boutiques.
If you have already visited the area and would like something different, then Positano Limousine Service provides some alternative tour itineraries which you may wish to consider. They specialize in arranging personalized day trips from Naples and want to share their experience planning your next Naples shore excursion. For more information, please call them at (+39) 339 7087359 today!
For more information stay connected with us at
Facebook
,
Twitter
,
Pinterest
,
LinkedIn
,
Instagram